History of Cook & Son Baseball Bats


Its a stormy night in Middle America. A young Roy Hobbs watches through his bedroom window as lightning downs a very important tree in his yard. The next morning, Roy begins upon his work. He cuts from the fallen oak a fair sized chunk of wood. He takes the wood to his barn where he works it with the tools of the day. The wood begins to take shape. Roy sands the wood, "bones" it so it won't chip. And when he's finished he burns the word "WONDERBOY" and a lightning bolt into it.

This, of course, is the history of a special baseball bat. The almost indestructible WONDERBOY from the novel and movie The Natural. A bat that did so much more than get hits for Roy Hobbs and win games for the fabled Knights, it inspired young boys. Inspired them to beg their fathers to help them make a baseball bat, in hopes that they would be the next "natural."

Well, my dad said, "Yes." In 1993, my father, Jim Cook, and I made our first baseball bat together. With my dad doing most of the work, we made our first bat in our garage on my dad's trusty Shop Smith lathe. We called it the Linedrive ("The Linedrive features a heavier handle and neck than most bats, for those big handed mashers who need a big bat to wrap their fingers around!"). Hoping that it would be the first of many, we labeled the Linedrive the "First Edition." Over the years, pa and I added a few more editions to the Cook & Son catalog: the KRB 628 ("Possibly the finest example that Cook & Son has produced to date, the KRB 628 is a pure hitters bat. It is sleek and natural. Its tapered knob allows a hitter a little more room to grab on to than your normal 33" bat."); the Coach fungo bat ("The Coach model is the first Fungo Bat that Cook & Son has put out. It features a long even barrel that provides superior ball control for coaches wishing to hit players pop flies and groundballs."); and, the first bat in my own shop, the NC 615-1.

In 2002, I got my own lathe and started making bats on my own. The NC615-1 was actually the first bat made on my new lathe. As I said above, my dad and I made that bat together. Its also the first Cook & Son Bat not made in Edmonds, Washington. It was made in my house in New Cumberland, Pennsylvania. I've been making bats on my own ever since. Even though I am making bats on my own now, all of my new bats remain Cook & Son bats.

Below is some of the text and pictures from the original Cook & Son website. They are of me and my dad making the KRB-628, which we named for my dog Kirby (whose birthday is June 28th). Beneath the pictures, I have left the original captions that appeared on the original website.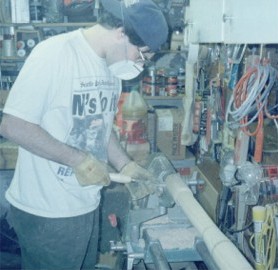 Todd works on the beginning of a bat in the Cook & Son Workshop.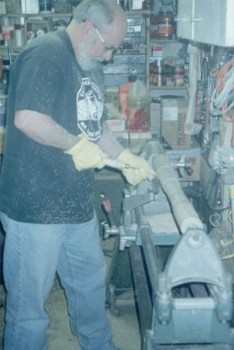 Jim works on a bat.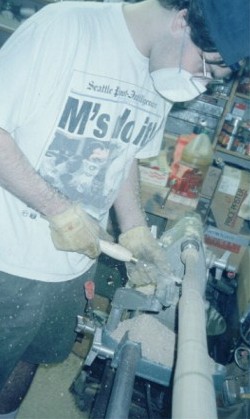 Todd does a small amount of the final work on Cook & Son bats.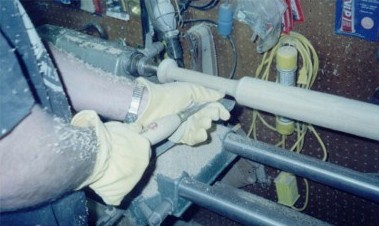 Cook & Son Baseball Bat Company uses only one 1955 Shop Smith workshop / lathe system to makes its bats. Only one lathe is used so only one bat can be made at a time. This ensures that every bat gets the utmost attention of all Cook & Son personel. The Shop Smith was purchased by Jim Cook, 16 years before Cook & Son made their first bat. The Shop Smith is capable of handling wood large enough to make a 33" bat and it is powered by a 1/2 horse-power engine.